Table of Contents
The Arizona Court of Appeals in a memorandum decision in the case of Levy vs. Levy case addressed what must be done in a family law case to preserve a due process claim on Appeal. Father appeals the trial court's February 21, 2017, order modifying child support. He argues that the court both violated his due process rights and erred in calculating child support.
We have jurisdiction under A.R.S. §§ 12-2101(A)(1) and 12-120.21(A)(1) and affirm. Father and Mother have one child in common.
In May 2011, their marriage was dissolved after the trial. At dissolution, the trial court issued a child support order requiring Father to pay Mother $601 per month—$513 in current child support and $88 towards child-support arrears. Father was also ordered to pay seventy percent of any uncovered medical and dental expenses.
In August 2016, the State of Arizona, in a IV-D proceeding, filed a petition to modify child support and the court issued an order to appear for a hearing. 2 At the hearing, it was determined an arrearage totaled $10,555 on March 31, 2011. Title IV-D refers to Title IV-D of the Social Security Act. 42 United States Code §§ 651 to 669.
On February 21, 2017, Mother and the state were present and Father appeared by phone. Mother testified that she had completed an affidavit of financial information ("the affidavit") on February 16, 2017.
Father asserts in his brief on appeal that it was postmarked on that date, but claims he did not receive the affidavit before the hearing. The affidavit was not admitted into evidence; however, Mother's attorney referred to the affidavit often during Mother's direct examination and Mother testified to some of the information within it.
During the hearing, Mother testified to the following facts: Child is on the autism spectrum and requires nearly twenty-four-hour supervision. Child attends public school where he is assisted by the help of a full-time aide. His autism is such that he is likely to run off and so he wears a special locating device.

Because of the severity of this autism, the extra medical and therapeutic expenses are nearly $1,000 per month. Mother also testified that Father has paid a total of $110 in child support in the past six years and that her parents help by paying for all of Child's extraordinary medical expenses.
Following the hearing, the trial court modified child support— from $601 to $735 per month—lowering Father's current support obligation from $513 to $235 and raising the monthly arrears payment from $88 to $500 per month. The court ordered Father to pay all of Child's future medical and dental expenses not covered by insurance.
Although we recognize that Father was unrepresented below and here, pro se litigants "are entitled to no more consideration than if they had been represented by counsel," and "are held to the same familiarity with required procedures . . . as would be attributed to a duly qualified member of the bar." Smith v. Rabb, 95 Ariz. 49, 53 (1963).
As extraordinary child expenses, Mother pays $329 per month in speech therapy, $200 per month to participate in a socialization skills group, $165 per month for occupational and adaptive therapy, $120 per month to see a craniosacral specialist, and $135 per month to participate in two additional programs. This number is predicted to be between $1,021 (Attorney General's Child Support Worksheet) and $1,079 (Mother's Financial Affidavit referenced in court transcript).
Father would still be in contempt under a 2013 order (for failure to appear at a prior support hearing) and issued a child support arrest warrant with a "release amount" set at $3,000, which, if paid, would be applied to support arrears. The court also found that none of the expenses listed were unreasonable for a child with autism and that Mother was unable to work, and attributed no income to her. The court filled out a child support worksheet with its other findings along with the support order.
Preserve Claims in an Arizona Family Law Appeal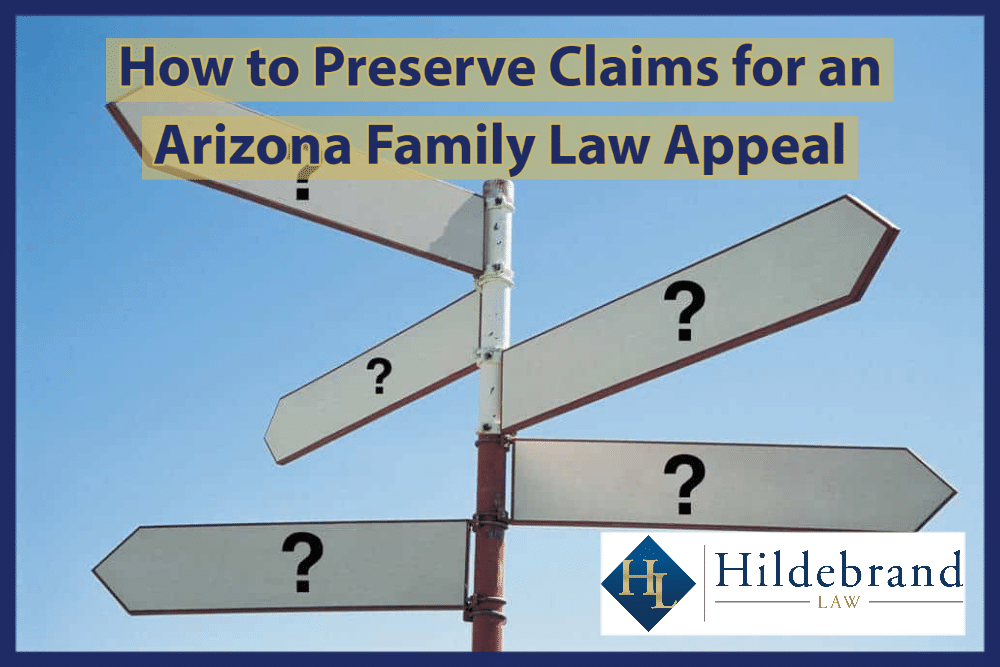 Father argues that the trial court violated his due process rights in three ways: first, by considering the affidavit at the hearing though it was not timely disclosed to him; second, by not allowing him to cross-examine Mother; and third, by ordering him to pay an amount representing more than 100 percent of his income or be incarcerated.
Father, however, did not raise any due process claims in the trial court. Generally, we do not consider arguments raised for the first time on appeal. See Cullum v. Cullum, 215 Ariz. 352, n.5 (App. 2007). Even an otherwise properly raised constitutional claim is forfeited if not preserved below. See Englert v. Carondelet Health Network, 199 Ariz. 21 (App. 2000).
A party need not say the "'magic words' of due process," but an objection to the judicial act and some argument implicating due process concerns must be made to preserve the issue. Volk v. Brame, 235 Ariz. 462, n.6 (App. 2014).
Though we do not address the merits of the arguments here, an explanation as to how he failed to preserve them is advisable. Father's first due process claim is that because Mother failed to comply with disclosure rules by not timely serving the affidavit, the trial court erred by considering it. Father did not preserve this claim.
Regarding the timely disclosure of the affidavit, the state filed a notice of confession of error on appeal on the grounds that the trial court could not consider the affidavit even though it had been filed with the court because it was not admitted in evidence.
We find that analysis incorrect and reject the state's concession. See State v. Solis, 236 Ariz. 242, (App. 2014) (appellate court not bound by party's confession of error). Even though the affidavit had no evidentiary value as a document because it was never admitted into evidence, see In re Marriage of Kells, 182 Ariz. 480, 483 (App. 1995).
Rule 8.5 reads in pertinent part as follows: A petition for modification of child support shall set forth the amount of child support currently in effect or shall set forth . . . the order sought to be modified or shall comply with Pima County Local Rule 8.2(c). The applicant shall file the petition . . . and a . . . financial affidavit.
A copy of the petition and the financial affidavit shall be provided to the [trial court]. A copy of each shall be served upon the opposing party, along with a blank copy of the required financial affidavit and a copy of Pima County Local Rule 8.5. Pima Cty. Super. Ct. Loc. R. P. 8.5(D)(2) (emphasis added).
Rule 8.5(B) requires that as to the financial affidavit, "[A] copy shall be provided to the other party no later than 4 court days prior to the date set for hearing or 2 court days after service of the Order to Appear, whichever is later." A party is generally barred from presenting evidence in a modification hearing about any changed financial circumstances unless an amended affidavit is filed, or good cause otherwise shown. Pima Cty. Super. Ct. Loc. R. P. 8.5(A)(2). If a party fails to comply with Rule 8.5(B), the trial court may vacate or continue the hearing, or enter other appropriate relief. Pima Cty. Super. Ct. Loc. R. P. 8.5(F).
Failure to comply with Rule 8 is remedied through various sanctions. Pima Cty. Super. Ct. Loc. R. P. 8.8. A party may move for sanctions or sanctions may be imposed in the court's own discretion. Id., citing Ariz. R. Fam. Law P. 71(A). Sanctions include the exclusion of evidence, staying or continuing the proceedings, or other appropriate relief.
Father did not object to Mother's testimony about the affidavit and only mentioned, in making a statement about his not having avoided the proceeding, that he had not received a copy before the hearing. He never moved the trial court for a continuance, objected to the court's consideration of the affidavit, or asked for any other sanction.
Father does not argue, and we do not find in the record, that he ever demanded a copy evidence has no evidentiary value), Father failed below to preserve these arguments for appeal. Trantor v. Fredrikson, 179 Ariz. 299, 300 (1994).
Father Did Not Preserve His Claim for Appeal at the Trial Court Letter
Father did not object to the affidavit before the hearing moved forward, that he objected to Mother's testimony about the affidavit, or even that he disputed any of the information in the affidavit that Mother testified to at the hearing.
Because Father did not object to the court's consideration of the affidavit and its contents at the hearing, or object to the testimony of Mother about the contents of the affidavit, the court could not avoid or correct any error. Trantor v. Fredrikson, 179 Ariz. 299, 300 (1994).
The trial court further had no chance to examine whether there was substantial compliance with Rule 8—given that the state is not required in all circumstances to strictly comply with the Rule, see Pima Cty. Super. Ct. Loc. R. P. 8.5(D)(2) ("An agency . . . shall not be required to strictly comply with the provisions of this local rule . . . if the information is not reasonably available to the agency prior to filing the petition")—or even whether or not good cause existed for the failure to serve the affidavit in advance, Ariz. R. Fam. Law P. 71(A). Cf. Rivers v. Solley, 217 Ariz. 528 (App. 2008) (trial court may find good cause for a failure to make a pre-trial disclosure under Ariz. R. Civ. P. 26.1); Calderon v. Calderon, 9 Ariz. App. 538, 541 (1969) (documents properly excluded where offering party could not explain the reasons for non-disclosure).
Father also argues that the trial court violated his due process rights by denying him the chance to cross-examine Mother. Father also did not preserve this claim. "The right to cross-examination is fundamental and attaches when . . . any testamentary or documentary evidence [is received]." Volk, 235 Ariz. 462, quoting Obersteiner v. Indus. Comm'n, 161 Ariz. 547, 549 (App. 1989) (omission and alteration in Volk).
Although the record shows that Father was never prompted by the trial court to cross-examine Mother, he never asked to question Mother while she testified, he never attempted, Although the transcript of the hearing indicates that "Mr. Levy" was asked if he had any questions for Mother, Mother's counsel proceeded to ask questions. It appears that the reference to "Mr. Levy" is a misstatement or a transcription error.
Father never complained to the court that he was being denied the right to do so. Father cites Volk in support of his assertion that his due process claim was preserved; this is misplaced. In Volk, the father had preserved the issue for appeal when he objected to the court's express refusal to allow the parties to testify. See Volk, 235 Ariz. 462, n.6. This implicitly raised the argument. Here, Father did nothing of the kind.
Father also argues, again relying on Volk, that his due process rights were violated because the support ordered is greater than his monthly income and because if he cannot pay he faces jail for contempt for non-payment. Father did not preserve this claim either.
The trial court ordered Father to pay $235 in current child support and $500 in arrears monthly. Father testified that his affidavit of financial information showed a gross monthly income of $2,158, but the court found that his annual income was only $20,500.
He argues, however, that— based on the $20,500 gross annual income figure—his monthly gross income is only $1,708.33. This is exceeded by the child support obligation when his responsibility for all of Child's uncovered medical and dental expenses are included with the $735 in monthly amounts.
Based on Mother's testimony, he argues, the uncovered expenses will be "at least $1,079.00 per month." At the hearing, Father argued that, in the past, claimed uncovered medical and dental expenses had been excessive.

The court informed Father that he is not prevented by the order from contesting the amount and reasonableness of uncovered medical and dental expenses when Mother claims them.
Father did not complain explicitly or implicitly in the trial court that his due process or any other constitutional rights were being violated by the amount of support ordered, nor did he complain about any procedures being employed or ignored by the court.
He failed to preserve his objection to the amount of support as a due process claim. See Volk, 235 Ariz. 462, n.6 (party must at least implicitly raise a due process argument in trial court to preserve it).
Father's final claim is that the trial court's child support order erroneously fails to comply with the Arizona Child Support Guidelines found in A.R.S. § 25-320. We review the court's ruling on a petition for modification of child support for an abuse of discretion. Strait v. Strait, 223 Ariz. 500, (App. 2010).
"An abuse of discretion occurs when the court commits an error of law that underlies its exercise of discretion." Sherman v. Sherman, 241 Ariz. 110, (App. 2016). "We accept the court's factual findings unless clearly erroneous but review de novo the court's conclusions of law and interpretation of the Arizona Child Support Guidelines."
The Arizona Child Support Guidelines "provide procedural guidance in applying the substantive law" for establishing and modifying of child support obligations. Milinovich v. Womack, 236 Ariz. 612, (App. 2015), quoting Little v. Little, 193 Ariz. 518, (1999); see also A.R.S. § 25-320.
This guidance extends to such matters as what must and may be considered a party's income and whether or not a party is to have income imputed to him. A.R.S. § 25-320. Father argues that the trial court abused its discretion by both refusing to treat substantial and continuing "gifts"—financial contributions from Mother's family—as gross income, and by refusing to consider the parties' education levels when determining a parent's earning capacity.
Testimony at trial showed that Mother's parents support her and that they pay most of the out-of-pocket costs for the care and support of the Child. Father now argues that the trial court should have considered this outlay by Mother's family as income to Mother in the calculation of support.
Section (5)(E)(3) of the Guidelines allows the trial court to "decline to attribute income to either parent" if a child has "unusual emotional or physical needs" that require that parent's presence in the home. A.R.S. § 25-320 app. § 5(E). The court's determination that Mother not be required to work given the special needs of the Child presupposed that she be permitted to have no income and that nothing be attributed to her for purposes of support.
On the record before us, we cannot say that the court did not consider whether or not to attribute these "gifts" to Mother. Thus, neither can we say that the court abused its discretion in not making such an attribution. See Mary Lou C. v. Arizona Dep't of Econ. Sec., 207 Ariz. 43 (App. 2004).
Similarly, nothing in the record indicates that the trial court did not consider Mother's education level in setting support. The court had already made the determination that Mother's not working to care for the Child was appropriate. Thus, an analysis of Mother's education level is irrelevant. We conclude that the trial court did not abuse its discretion in reaching its child support calculation. For the foregoing reasons, we affirm.
If you have questions about preserving claims for a family law appeal in an Arizona divorce case, you should seriously consider contacting the attorneys at Hildebrand Law, PC. Our Arizona divorce and family law attorneys have over 100 years of combined experience successfully representing clients in divorce and family law cases.
Our family law firm has earned numerous awards such as US News and World Reports Best Arizona Family Law Firm, US News and World Report Best Divorce Attorneys, "Best of the Valley" by Arizona Foothills readers, and "Best Arizona Divorce Law Firms" by North Scottsdale Magazine.
Call us today at (480)305-8300 or reach out to us through our appointment scheduling form to schedule your personalized consultation and turn your Arizona divorce or family law case around today.
More Articles About Divorce and Family Law in Arizona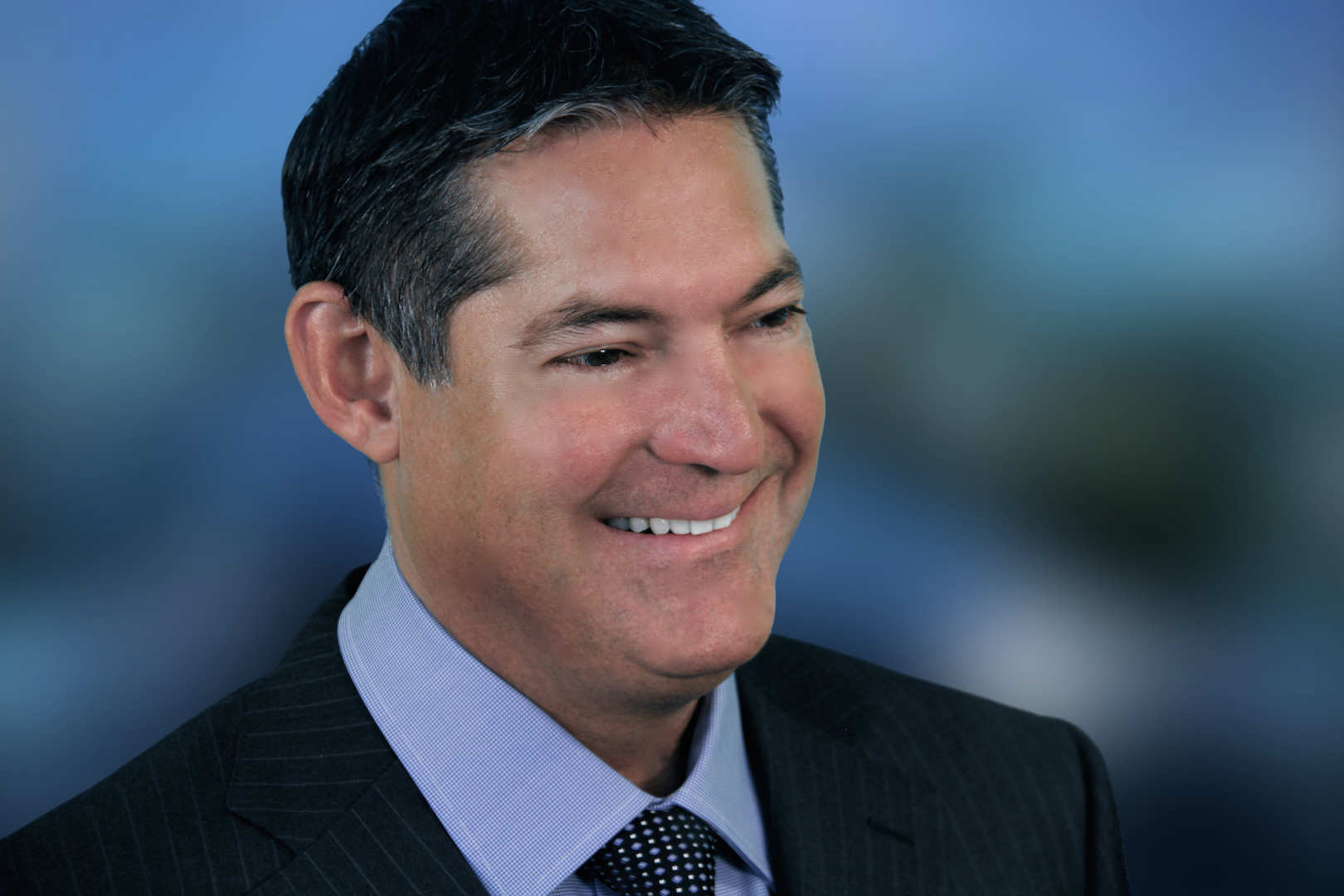 About the Author: Chris Hildebrand has over 26 years of Arizona family law experience and received awards from US News and World Report, Phoenix Magazine, Arizona Foothills Magazine and others. Visit https://www.hildebrandlaw.com.