Non-testamentary Disposition of Assets in an Arizona Probate
In Arizona, a surviving spouse is entitled to a statutory allowance from the other spouse's estate. Sometimes the estate doesn't have enough assets to pay that allowance. Arizona law gave the probate court authority to take the decedent's life insurance policy proceeds to pay that allowance.
This was true even when another person was named as beneficiary. In re: re Estate of Agens, 998 P.2d 449 (1999) the Arizona Supreme Court considered Arizona law on that subject.
Specifically, it looked at whether the Uniform Probate Code changed that result.
Facts of the Case
Mr. Agans died while married. His wife opened probate but found that there were not enough assets in the estate to pay her surviving spouse's allowance.
She asked the court to bring into the estate the proceeds of a life insurance policy. The couple purchased it during the marriage with community funds. The named beneficiary was Mr. Agans's mother. The probate court agreed with the wife.
It ordered that the life insurance proceeds of $20,000 should be part of the estate. An appeal of that ruling followed.

Prior Arizona Law
The Court reviewed the current state of the law in Arizona on the subject. Arizona is a community property state. This means that all money earned by either spouse during a marriage belongs to the marriage community.
When that community money is spent on a life insurance policy, the surviving spouse has an interest in the proceeds. This is true even if a different person is named as beneficiary.
When the estate lacks funds to pay the surviving spouse's allowance, the court can use the insurance proceeds.
Impact of Uniform Probate Code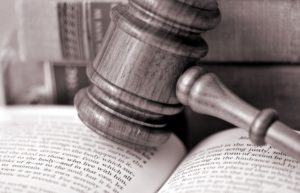 However, all this was law before Arizona passed the Uniform Probate Code. The Arizona Supreme Court ruled that the Uniform Probate Code specifically changed that law.
The Uniform Code limits probate authority to take assets that normally pass to a third party outside of probate. These assets, termed "nontestamentary dispositions," can include payable-on-death accounts and insurance policies.
Under the uniform laws, nontestamentary dispositions cannot be reclaimed by the estate to pay surviving spouse benefits. Only testamentary dispositions (those written into the will, like bequests to third parties) yield to a spouse's allowance.
Conclusion
The Arizona Supreme Court reversed the trial court's order. It said the court could not grant the petition including the proceeds in the estate. Those insurance proceeds could not be taken to pay Wife's statutory allowances. The Court ordered the trial court to determine whether Wife had any community property rights in the insurance proceeds.
If you have questions about nontestamentary dispositions of assets in an Arizona probate case, you should seriously consider contacting the attorneys at Hildebrand Law, PC. Our Arizona community property and family law attorneys have over 100 years of combined experience successfully representing clients in community property disputes and family law cases.
Our family law firm has earned numerous awards such as US News and World Reports Best Arizona Family Law Firm, US News and World Report Best Divorce Attorneys, "Best of the Valley" by Arizona Foothills readers, and "Best Arizona Divorce Law Firms" by North Scottsdale Magazine.
Call us today at (480)305-8300 or reach out to us through our appointment scheduling form to schedule your personalized consultation and turn your Arizona community property or family law case around today.
Chris Hildebrand wrote the information on this page about Arizona probate and non-testamentary disposition of assets  in Arizona to ensure everyone has access to information about family law in Arizona. Chris is a divorce and family law attorney at Hildebrand Law, PC. He has over 24 years of Arizona family law experience and has received multiple awards, including US News and World Report "Top Arizona Divorce Attorneys", Phoenix Magazine "Top Divorce Law Firms", and Arizona Foothills Magazine "Best of the Valley" award. He believes the policies and procedures he uses to get his clients through a divorce should all be guided by the principles of honesty, integrity, and, quite frankly, actually caring about what his clients are going through in a divorce or family law case. In short, his practice is defined by the success of his clients. He also manages all of the other attorneys at his firm to make sure the outcomes in their clients' cases are successful as well.
[gravityform id="1″ title="true" description="true"]
---
What's Hot – Blog