Divorce Mediator Fountain Hills Arizona

If you live in Fountain Hills Arizona and are seeking or defending against divorce, you should consider having you and your spouse meet with an independent and unbiased divorce attorney to resolve the issues in your divorce case. You should retain an Arizona divorce attorney who has a lot of experience in simple and complex divorce cases.
Our divorce mediation attorney, Chris Hildebrand, has over twenty years of experience working as both a divorce lawyer and as a divorce mediator in Arizona.
Chris has handled complex cases involving estates over one hundred million dollars, including cases involving large businesses, property holdings, investments, and other assets. He understands the appraisal and valuation process necessary to determine the value of these assets in an Arizona divorce case.

Divorce Mediation in Fountain Hills AZ | Why Divorce Mediation
The truth is that people who fight in a divorce only make the attorneys on the case wealthier. Your goal should be to decrease those costs by keeping your case out of court. Mediation is done in a private setting whereas litigation is a matter of public record.
Yes, that means your friends, family, neighbors, and business associates can all obtain all of the documents filed in your case. These people can even order the video and audio transcripts of your testifying in your Arizona divorce case.
Mediation, therefore, provides a private setting to protect you from the public being able to gain access to your divorce disputes. To some, this may not matter, but it can be imperative to those who value their privacy and that of their children.
Mediation also offers you more flexibility to obtain orders a divorce court does not have the authority to order. The Arizona divorce courts have limited authority to enter orders regarding certain aspects of the divorce. A mediator, however, can craft a more comprehensive and effective agreement that can then be enforced by the Arizona Divorce courts.
Divorce Mediation | What Does it Cost?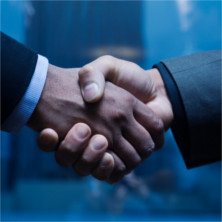 The cost of a divorce mediation depends upon the number of hours you are in the settlement conference. Many cases are resolved in less than a day. The more complicated cases could take several days to settle if the exchange of financial information is extensive or business or other appraisals need to be completed.
Our divorce attorney, Chris Hildebrand, has handled many divorce settlement conferences for both the court and other lawyers. He has the knowledge and experience to help you settle your Fountain Hills divorce mediation.
More Articles About Divorce Mediation in Arizona
Chris Hildebrand wrote the information on this page about divorce mediation in Fountain Hills Arizona to ensure everyone has access to information about divorce mediation in Arizona. Chris is a divorce and child custody attorney at Hildebrand Law, PC. He has over 24 years of Arizona family law experience and has received multiple awards, including US News and World Report "Top Arizona Divorce Attorneys", Phoenix Magazine "Top Divorce Law Firms", and Arizona Foothills Magazine "Best of the Valley" award. He believes the policies and procedures he uses to get his clients through a divorce should all be guided by the principles of honesty, integrity, and actually caring about what his clients are going through in a divorce.