DNA Testing to Establish Paternity in Arizona

There are new methods of scientific testing that are very accurate to prove whether a man is the father of a child. Testing laboratories now use DNA testing to establish paternity in Arizona.
The test results can show whether a man is a child's father to a very high degree of certainty.
All DNA tests will have some degree of accuracy, and no DNA test will indicate a person is guaranteed 100% to be the father of a child.
The law in Arizona only requires that the DNA test indicates certainty of at least 95% for a judge to be able to presume the person is the father of the child.
If the likelihood of paternity is 95% or greater according to the DNA test, the father then has the burden of proving he is not the father of the child by clear and convincing evidence.
Contact Our Scottsdale Arizona Paternity Attorneys
If you are involved in a paternity case and are in need of a paternity lawyer in Phoenix or Scottsdale Arizona, the family law firm of Hildebrand Law, PC is only a phone call away.
Our attorneys handle all types of paternity cases in Arizona.
Please call (480)305-8300 if you wish to speak with our Arizona paternity lawyers or have additional questions regarding Arizona paternity laws.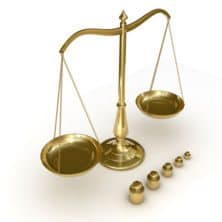 More Articles About Paternity in Arizona
Chris Hildebrand wrote the information on this page about DNA testing to establish paternity in Arizona to ensure everyone has access to information about paternity laws in Arizona. Chris is a divorce and child custody attorney at Hildebrand Law, PC. He has over 24 years of Arizona family law experience and has received multiple awards, including US News and World Report "Top Arizona Divorce Attorneys", Phoenix Magazine "Top Divorce Law Firms", and Arizona Foothills Magazine "Best of the Valley" award. He believes the policies and procedures he uses to get his clients through a paternity case should all be guided by the principles of honesty, integrity, and actually caring about what his clients are going through in a divorce.